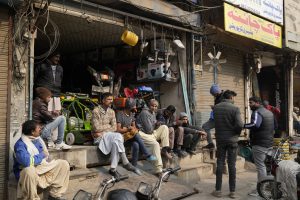 Shopkeepers and workers wait for electric power at a market following a power breakdown across the country, in Lahore, Pakistan, Monday, Jan. 23, 2023.
Credit: AP Photo/K.M. Chaudary
Much of Pakistan was left without power for several hours on Monday morning as an energy-saving measure by the government backfired. The outage spread panic and raised questions about the cash-strapped government's handling of the country's economic crisis.
Electricity was turned off across Pakistan during low usage hours overnight to conserve fuel across the country, officials said, leaving technicians unable to boot up the system all at once after daybreak.
The outage was reminiscent of a massive blackout in January 2021, attributed at the time to a technical fault in the country's power generation and distribution system.
Monday's nationwide breakdown left many people without drinking water as pumps are powered by electricity. Schools, hospitals, factories and shops were without power amid the harsh winter weather.
Energy Minister Khurram Dastgir told local media on Monday that engineers were working to restore the power supply across the country, including in the capital of Islamabad, and tried to reassure the nation that power would be fully restored within the next 12 hours.
According to the minister, during winter, electricity usage typically goes down overnight — unlike summer months when Pakistanis turn to air conditioning, seeking a respite from the heat.
"As an economic measure, we temporarily shut down our power generation systems" on Sunday night, Dastagir said.
When engineers tried to turn the systems back on, a "fluctuation in voltage" was observed, which "forced engineers to shut down the power grid" stations one by one, he added.
He insisted that this was not a major crisis, and that electricity was being restored in phases. In many places and key businesses and institutions, including hospitals, military and government facilities, backup generators kicked in.
Karachi, the country's largest city and economic hub, was also without power Monday, as were other key cities such as Quetta, Peshawar and Lahore.
In Lahore, a closing notice was posted on Orange Line metro stations, with rail workers guarding the sites and trains parked on the rails. It was unknown when the metro system would be up restored.
Imran Rana, a spokesman for Karachi's power supply company, said the government's priority was to "restore power to strategic facilities, including hospitals," airports and other places.
Pakistan gets at least 60 percent of its electricity from fossil fuels, while nearly 27 percent of the electricity is generated by hydropower. The contribution of nuclear and solar power to the nation's grid is about 10 percent.
Pakistan is grappling with one of the country's worst economic crises in recent years amid dwindling foreign exchange reserves. This compelled the government earlier this month to order shopping malls and markets to close by 8:30 p.m. for energy conservation purposes.
Talks are underway with the International Monetary Fund to soften some conditions on Pakistan's $6 billion bailout, which the government thinks will trigger further inflation hikes. The IMF released the last crucial tranche of $1.1 billion to Islamabad in August.
Since then, talks between the two parties have oscillated due to Pakistan's reluctance to impose new tax measures.