If you've caught yourself researching Disney cruises lately, we don't blame you — with waterslides galore and a reputation for luxury, Disney cruises can be a lot of fun. But they can also be pricey, and those costs can add up if you're sailing with multiple people.
If you've been asking, "How much is a Disney cruise?," we have the answer for you. Let's look at the options for cruises, how much they cost and ways you can make them more affordable.
No matter where you're looking to go, Disney likely has a cruise for you. Sure, you won't find ships heading to Antarctica, but there are still plenty of destinations from which to choose, including:
Disney cruise destinations
Many of these destinations are oriented toward North American travelers, but you'll find options scattered all over the world.
The different Disney cruise ships
Despite its wide variety of destinations, Disney operates only five ships. Its newest ship, the Disney Wish, launched in June 2022 to great fanfare, thanks to its high-end design and interactive elements.
Along with the Disney Wish, you can opt to sail with:
Disney acquired a sixth ship in November 2022 that will be based outside the U.S. and is scheduled to set sail in 2025.
So, how much should you save to cover Disney cruise costs? The short answer: It depends.
No, that's probably not what you want to hear, but it's the truth. The price of a Disney cruise is going to be influenced by a variety of factors, including:
Which Disney ship you're on.

How many people you're traveling with.

The type of stateroom you book.

Any add-ons or specialty bookings you choose.
If you're looking for an all-out experience, it's pretty easy to rack up a big bill. Disney cruises are well known as an expensive option, but tacking on high-end touches such as a concierge room and spa visits will really drive up the price.

The cheapest cruises you'll find tend to sail from San Diego, and they're the shortest trips as well. We searched for sailings across the calendar and found the cheapest rates rang in at $1,326 for two guests in an inside room on a three-night trip from San Diego.

In contrast, the most expensive cruise we found was a 10-night option that travels through Iceland, Norway, France and Denmark. The price tag came in at $6,489 for two guests in an inside cabin and rose to $28,089 for a concierge-level room.
How to save money on a Disney cruise
There's no denying that Disney cruises can be expensive. However, there are ways you can save money on your booking.
Find discounted sailings

This first option seems obvious, but you'll want to specifically search for discounted sailings. Although Disney doesn't always offer sales, if they are available, you'll find them on the Disney cruise line page — just click "Show special offer filters" when searching.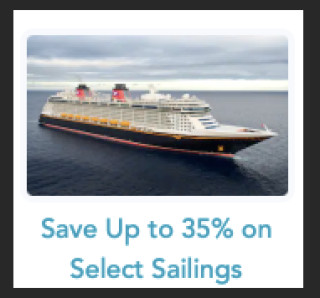 The special offers filter will let you know what types of discounts are available, like the example above promoting up to 35% off on select sailings.
Skip the add-ons
The base fare for these trips includes almost everything, so if you're looking to drop the cost of a Disney cruise, consider avoiding add-ons. This means skipping out on things like wine tastings and specialty drinks as well as forgoing dinner at Palo, the adults-only Italian restaurant that comes with additional costs.
Instead, enjoy the plethora of complimentary activities, such as pools, movies, shows, karaoke, dancing and more. And when it comes to food and beverage, simply sip the included soda and coffee, eat the (already amazing) free food and don't forget to order a Mickey ice cream bar with your complimentary room service.
Disney is notable in that it also allows you to bring your own alcohol on board. Each guest older than 21 can bring up to two bottles of wine or six cans of beer when they first board and at every port of call. Considering that alcohol on the ship can be pretty expensive, this is a good way to save money.
Use a promotion

Do you live in Florida or Southern California? Or perhaps you're a member of the U.S. military? If any of these apply to you, you may have special access to discounted Disney cruise prices.

You'll be able to find these deals via that special offers filter shown above. For example, that three-night San Diego sailing mentioned above dropped from $1,326 to $1,164 once we selected the U.S. military filter.
Redeem points
Last, but certainly not least, is the option to redeem your points for a Disney cruise. While there's no good way to transfer points directly, there are still ways you can use points toward your booking.
Even better, these redemptions can be stacked with other discounts, allowing you to drop your costs even more. For example, a member of the U.S. military can redeem 116,400 Capital One Miles to pay for their entire cruise, an excellent double dip that saves money and miles.
Disney cruise costs, recapped
The cost of a Disney cruise can vary dramatically based on your needs and sailing preferences. However, you should expect to spend at least $1,000 on a cruise for two passengers. The price goes up from there depending on your cabin selection, trip duration and destination choices, among other options.
If you're looking to save money on a Disney cruise, consider waiting for a sale, checking relevant discounts or redeeming points to help keep your out-of-pocket costs low. And if you like to enjoy an alcoholic beverage every once in a while, we recommend bringing your preferred drink with you on board.
(Top photo courtesy of Disney Cruise Line)
How to maximize your rewards
You want a travel credit card that prioritizes what's important to you. Here are our picks for the best travel credit cards of 2023, including those best for: