The hype for marijuana stocks was full steam a few years ago. But since then, we've had a big pullback with interest from investors in the cannabis industry. On top of that, the broader markets are down. However, this is creating better investing opportunities.
The wave of marijuana news has its ups and downs. And recently, there's a big move to the upside. That's due to an announcement that Joe Biden will pardon thousands of people for federal marijuana offenses.
It's slow moving but there's a lot of positive momentum for legalization. I'd guess it's only a matter of time before it's legalized on the Federal level. And this will open up new profit opportunities.
That's why I've tracked down some of the best marijuana stocks. On top of that, you can buy in at much better prices today than in the past few years. So, without further ado, let's dive into the companies…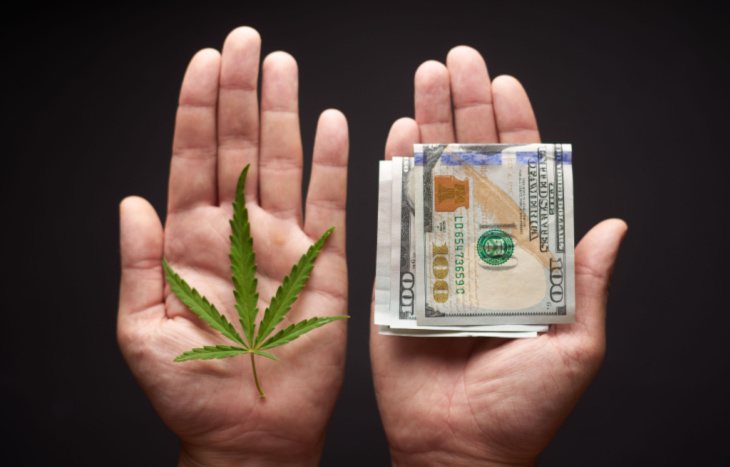 Best Marijuana Stocks
Canopy Growth (Nasdaq: CCG)
Altria (NYSE: MO)
Scotts Miracle-Gro (NYSE: SMG)
Cronos Group (Nasdaq: CRON)
Each of these marijuana stocks comes with a different set of pros and cons. Some provide diversification outside of the cannabis industry, while others don't. So, let's look at some highlights from each company.
Canopy Growth
Canopy Growth is a leading Canadian-based marijuana company. It was the first marijuana company to list publicly in North America. That was in 2014 on the Toronto Stock Exchange, and in 2018, it listed on the New York Stock Exchange. Then in 2020, it moved to trade on the Nasdaq.
Canopy is helping to build up a wide range of brands such as Tweed, Spectrum Therapeutics, Martha Stewart, Ace Valley and many others. So this marijuana stock provides some diversification within the industry. It's also attracted some large investors…
Constellation Brands (NYSE: STZ) bought into the company and increased its stake in 2020. It now owns close to 40% of the company. Since then, this marijuana stock hasn't fared too well. Shares are down more than 90% from their highs and the company isn't yet profitable. However, it still has a strong balance sheet and should be able to grow in the years ahead.
Altria
Altria isn't a pure play, but this company is a major player in a related industry. It can use its tobacco industry expertise to profit as marijuana becomes more widely adopted.
Altria has applied pressure in Congress and at the state level to push cannabis-friendly laws. In 2018, it also spent $1.8 billion to buy a stake in Cronos, a multi-national cannabis company. This investment hasn't played out too well, but Altria is learning a lot from the deal. This can help with future expansion in the marijuana market.
Investing in a tobacco company isn't for everyone, but it's been rewarding for long-term investors. Thanks to its steady customer base and revenue, it produces steady cashflows. This has allowed Altria to pay big dividends and also expand into newer markets such as the cannabis industry.
Scotts Miracle-Gro
For another one of the best marijuana stocks, Scotts Miracle-Gro isn't a direct play. But it still gives good exposure to the cannabis industry. I consider the company a "picks and shovels" play for marijuana. For example, during the gold rush, selling picks and shovels created many fortunes as well. The same was true for the saloon owners.
Scotts Miracle-Gro sells a wide range of supporting equipment. It has been acquiring and building out hydroponic products. This is a huge growth opportunity as many marijuana growers use hydroponic systems.
Scotts Miracle-Gro is a beaten down stock. It's down more than 80% from its highs. Although, the risk-to-reward at its current price is looking more favorable for long-term investors.
Cronos Group
Cronos Group is another Canadian marijuana company. And as mentioned earlier, Altria is a large investor in the company.
Cronos Group is focused on advancing cannabis research, technology and product development. It's also building up a portfolio of brands such as Spinach, Peace Naturals, Lord Jones and Happy Dance.
The company isn't yet profitable but it's growing its revenue. It has a lot of room to expand and even more so as regulation eases up. And similar to the other stocks on this list, investors have beaten it down. It's down more than 80% from its all-time highs.
Final Thoughts
The cannabis industry became a bit crowded a few years ago. It's since cooled down and now with lower prices, there are better buying opportunities.
There's been a huge shift in public opinion towards marijuana. More states continue to move to legalize it and I wouldn't be surprised to see the Feds easing up in the years ahead. As that happens, it should open up better operating opportunities for marijuana businesses.
This bodes well for the best marijuana stocks. Although, they come with plenty of risk. So, always do your own research before investing. I hope this list is a good starting point.
Going one step further, check out these best investment newsletters. They're free and packed with tips and tricks from investing experts. They cover a wide range of investing topics and trends. Here at Investment U, we strive to deliver the best investment research and ideas…