Key Takeaways
Ethereum's Layer 2 networks have cumulatively surpassed $5 billion in total value locked.
Optimistic Rollup solutions Arbitrum One and Optimism account for over 80% of the locked value.
zkSync, which is set to launch its mainnet 2.0 on Friday, has also seen its total value locked increase 19% this week.
Arbitrum currently holds more than half of all the total value locked on Layer 2. 
Inside Ethereum Layer 2 
Ethereum's Layer 2 ecosystem is on the rise. 
Per L2Beat data, the total value locked within the top smart contract blockchain's Layer 2 scaling networks topped $5 billion Wednesday, posting a 9.2% rise over the past week. The total value locked on Ethereum Layer 2 is currently about $5.09 billion. 
The jump in locked value comes amid a period of bullish momentum in the cryptocurrency market. Amid the bounce, ETH has gained almost 20% in market value over the past week, currently trading at about $1,540. ETH is widely used as Ethereum's Layer 2 base asset, so its rise goes some way to explaining the increase in the total value locked.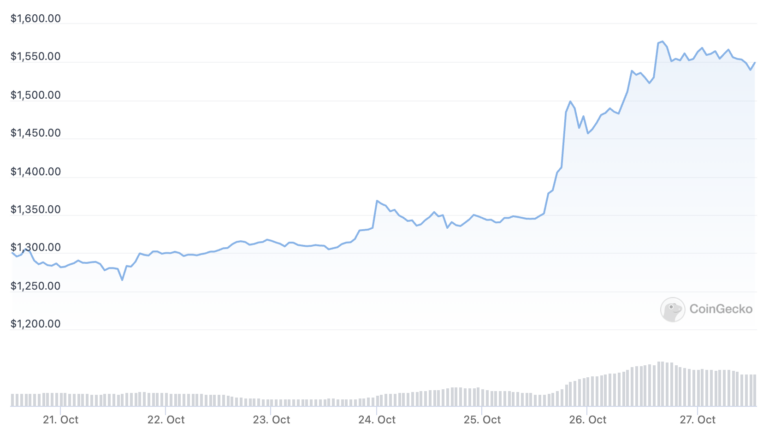 Arbitrum One and Optimism, two Optimistic Rollup solutions that collectively account for over 80% of the value locked on Layer 2, have respectively seen rises of 9.3% and 10.3% in total locked value. Arbitrum One currently holds around $2.59 billion, over half of the locked value on Layer 2. 
However, while the ETH upswing has helped Layer 2's locked value surge to a new all-time high, it's not the only factor behind the rise. This week is a major one for the Layer 2 ecosystem as zkSync is set to launch its new product, zkSync 2.0, on mainnet Friday. As a result, capital has flooded over to the zkSync protocol, up around 19% this week. zkSync is a ZK-Rollup solution and has so far seen slower growth than its leading Optimistic Rollup counterparts, but the project is hoping that tomorrow's launch will give the network a boost. 
ZK-Rollups and Optimistic Rollups 
ZK-Rollups use zero-knowledge proofs to bundle transactions and reduce the amount of data required to validate transactions on Ethereum mainnet, in turn offering faster transaction speeds and cheaper fees. Unlike Optimistic Rollups, they do not require a lengthy dispute period to maintain security (it takes about a week to send funds from Arbitrum One back to Ethereum mainnet, for example). Though Optimistic Rollups are currently leading Ethereum's Layer 2 race, ZK-Rollups have long been touted as the technology that could help Ethereum prepare for mass adoption. Ethereum creator Vitalik Buterin has discussed them at length, arguing at this month's Devcon conference that they could be "at least as important to technology as blockchains."
Interestingly, though the total value locked on Layer 2 is down from its April 2022 peak in dollar terms, when it topped $7.4 billion, the amount of ETH in the ecosystem is now higher. Per L2Beat data, the current total value locked is the equivalent of around 3.25 million ETH after a steady rise over the past year. 

While the Ethereum Merge was the second-biggest blockchain's most highly-anticipated update this year, Ethereum enthusiasts have long hoped that Layer 2 growth will help the ecosystem hit mass adoption by reducing costs and making the network more accessible. While Ethereum mainnet still holds the bulk of all the capital in the crypto ecosystem with just under $32 billion locked, Layer 2 appears to be catching up fast. 
Disclosure: At the time of writing this piece, the author owned ETH and several other crypto assets.