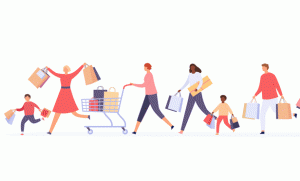 Since the leveling off of the pandemic, the retail sector has become a success story. Bricks-and-mortar are triumphing over e-commerce as consumers flock to in-person locations, while more stores have opened than closed this year.
The year 2022 has been an exciting one for the professionals who navigate the retail real estate market. New brands, new themes and new store concepts are being tested in various markets – usually to great success. And thus far, consumers have remained resilient in the face of economic headwinds, though that story is still being written.
The question, of course, is how long will this sector success continue before an economic downturn or worse visits the US economy?
Many professionals the industry believe that retail has hit an inflection point – that all the years of studying consumers and racing to stay ahead of trends have had their effect, and while some stores may close and some bankruptcies occur, they won't be at the levels seen in years past. Others are not so sure, which makes the job of a retail real estate broker or banker or landlord that much more challenging.
Retail real estate professionals have become experts at handling lease re-negotiations, while at the same time developing new innovations for touchless environments and working tirelessly to ensure that retail properties serve and revitalize their surrounding communities.
As such, GlobeSt. Real Estate Forum is seeking to once again recognize retail real estate's prominent professionals – from developers, investors and tenants, to brokers, managers and consultants. These individuals, teams and companies have had a significant impact on the business as commercial real estate's 2023 Influencers in Retail Real Estate.
The deadline for nominations is February 1, 2022. To apply, click here.
For additional information, please view the series' FAQs page.
To stay up-to-date on GlobeSt.com's commercial real estate coverage, we invite you to register for our daily and/or weekly email newsletters.
---
---